TREND Building Management System

Trend BMS Systems is a leading BMS solution from UK and its also a subsidary company of Honeywell. Trend has been providng BMS solution in Singapore for 20 years. With its innovative Peer to Peer DDC Controllers running on ethernet - the IQ3xcite controller, it has change the solution space for DDC controllers more used to master-slave configurations.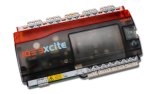 The IQ3xcite eliminates single point of failures of many master-slave solutions. Easy to install, and modular in design, the IQ3xcite controller comes with in-built webserver in each controller, allowing engineers direct control and visibility to the functionings of the controller in a fast and easy way.
Each IQ3xcite comes with 16 I/O and can easily be expanded to 128 points.