New HD CCTV Technologies
CCTV has been with us for a good number of years. High Resolution CCTV through IP cameras have also been around for the last 10 years. But what is new is the arrival of new HD Analog solution that works over existing cables in the last 2 years. And together with their increase acceptance, the price point of such solutions have also "force" the price of IP cameras down to levels that home consumers are finding acceptable. While there have been a few Analog HD technology in recent years, AHD and TVI are emerging as technologies to watch.
HD-TVI or High Definition Transport Video Interface
First developed by US firm Techpoint in 2014, HD-TVI removes many of the disadvantages of earlier HD analog solution that where introduced earlier on. HD_TVI is able to transmit from uncompressed HD images through 300 - 500m over analog cables, and provide high resoluiton of 720p of 1080p. This provide users with a easy HD solution that is cheap to implement. What's more HD-TVi is an open standard that has since been adopt by over 100 CCTV manufacturers. This high adoption means that you can buy HD-TVI from different vendors including HIKvision and be able to used interchangeably. HD-TVI DVRs are also backward compatible with existing analog cameras, making HD-TVI DVRs the choice for replacement of DVRs in existing sites with damaged or aged DVRs.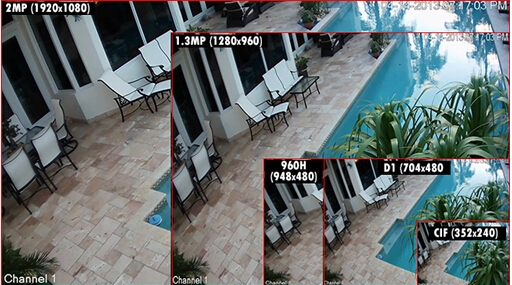 AHD or Analog High Definition
AHD is more recent developed solution by Korean company Nextchip and boost of resolution of 1MP, 1.3MP and 2.0MP. AHD can be carried on coaxial cables for a distance of up to 500m. This is to say that you can achieve FullHD quality video from your CCTV cameras. In terms of performance it is pretty much similar to HD-TVI. It however promises to be a cheaper solution and we await if this will indeed be true.
IP Camera
With the success introduction of HD analog solutions, should we still be looking at IP cameras? Well current IP cameras are already offering resolution up to 5MP compared to 2MP for the HD analog solutions. Current cat5e/cat6 cables used for IP cameras have the capacity to carry and multipllex multiple cameras on a single cable. They are likey to more future proof such that you can start with a 1.3MP camera and upgrade to higher resolution cameras as the price points drops. For larger setups, IP camera solution also allow you to distribute the equipment more easily and there are less cables returning to your control centre. And at the 1.3MP or 2MP range, you are also able to find IP camera solution that are priced similarly to the HD analog solutions! One often mentioned disadvantage of IP camera solution is the difficulty in implementation. This is not necessarily through if you choose the right cctv installation partner like Astron Networks.
Choosing the right solution
There are many factors in choosing the right solution. It is always a trade-off between budget and needs. You can always clear up your doubts by calling us at Tel: 67482698